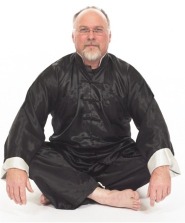 As a young person I found I was seeking "something" not then available from my environment – an understanding of life, of people etc. With science and sports based interests I was completely unsatisfied with the mainstream western/middle-eastern religions and cultures – the far-east promised something different and Karate with its Japanese philosophical connections and a promise of physical defensive power from using the body in a different way, had a lot of attraction.
So I started in Karate while at university, where I trained for 3 years. At the time Karate was one of the few styles available and was very popular, with the UK teams being successful internationally, although over the years I realised that the sport side was not where my competence or my interest lay. My own training continued only for a couple of years after University and lapsed for several years thereafter. However like many people who have trained in martial arts for even a short period the experience stayed with me and I returned to training in my early 30s.
Along the road I achieved temporary grades a couple of times (to be automatically confirmed 6 months later) – and each time had much soul searching as these grades were often considered not quite valid – clearly the highly ranked and respected teachers that awarded them were happy about them, but many other senior grades were not. This conflict started a useful thought process and led me to notice the spiral nature of my progress. This seemed to involve me going round the same kind of development process every few years, each time challenging, learning and changing only to consolidate then go round the whole thing again in the next few years – it seems to take me about 7 to 10 years to complete a cycle.
This process was heightened by my starting Tai Chi practice in the same year I gained my first black belt grade in Karate and continued until I found other teachers who combined soft technique with hard style – finding a balance that I had not till then been aware of as a possibility. Further on I was introduced to "vital point "strategy in older style Karate and in modern Tai Chi. The sheer speed, power and brutality of this approach was frightening – it gave me much thought about the human condition – especially since the people teaching it were balanced thoughtful human beings. I found in the end that it is those very factors that give martial arts their value and meaning, and encourage us to balance ourselves with a search for the positive side of ourselves. Almost as if unconsciously we seek to fill our potential – the trick being to do this constructively not destructively. More…… read more here