Shefford Tai Chi class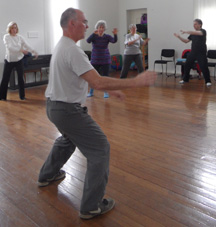 Just a quick update to let anyone interested know that the Monday class at Haynes has ceased as from last night (30 Jan) – with those students interested to continue their practice transferring to the Shefford classes of their choice – either Sunday evenings or Monday afternoons.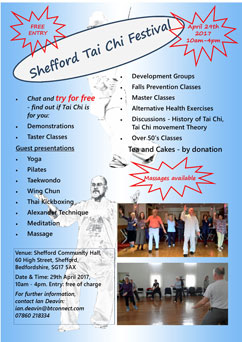 Each year on the last Saturday of April the World Health Organisation recognises World Tai Chi and Qigong Day – so for 2017 we are planning a Tai Chi festival at the newly refurbished Shefford Community Hall.
Entry will be free for all with plans for demonstrations, taster classes, falls prevention discussions, etc through the day as well as a number of guest demonstrations by teachers from other classes held at the hall – such as Yoga, Pilates, Taekwando, Tai Kick Boxing, – we are also expecting Alexander Technique and Massage to be available.
Tea and cakes will be available by donation.
We intend that there will be no charge for participants or visitors as we are seeking to promote local community activities related to Tai Chi – anybody wishing to be involved should contact Ian Deavin on 07860 218334 or e-mail ian.deavin@btconnect.com
We are delighted that the Shefford Community Hall is to receive a make over during October – as a consequence we will be moving our Tai Chi classes to Southill Village Hall on Sunday evenings and to Campton Village Hall on Monday afternoons for the duration of October.
I look forward to seeing students in Southill and Campton during October – and to returning to a sparkly updated new Shefford hall in November!