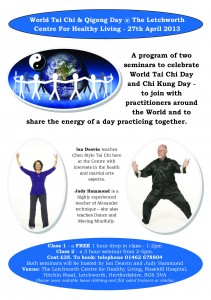 We had a lovely time doing Tai Chi last year at The Letchworth Centre for Healthy Living – so this year we have opened it up a little – I am joined by the most excellent and enthusiastic Judy Hammond who adds a delightful energy to our study of Tai Chi movement from her work in her classes for Moving Mindfully and Alexander Technique – which are so very compatible whith the Tai Chi/Chi Kung models.
Plus this year we have expanded the program so that now we have two seminars on Saturday 27th April –  a FREE 1 hour seminar from 1.00pm to 2.00pm – followed by a 3 hour seminar  from 2.00pm  to 5.00pm  at a cost of £35.
Contact The Letchworth Centre to book your place.