We had a brilliant day again this year – despite the weather many more people came than last year and lots stayed for the whole day – we were delighted to see everybody. There was a lot of interest in all the classes starting with Tai Chi exercises to loosen up the body and a seated Zen meditation session to calm and connect both mind and body.
The first guest presentation was from the ENSO Jujitsu group based in Clifton and headed by Lee Alexander, who showed us a variety of exercises and self-defence techniques with flowing movement and exciting throws including a female student taking on a series of attacks from the rest of the class. Visitors were encouraged to join in some partner work and experience the effectiveness of Jujitsu for themselves. There was a lot of enthusiasm and some laughter as everybody worked together co-operatively to learn these techniques.
Ian Deavin then took a beginners Tai Chi class incorporating standing exercises and slow walking – the sort of activities that the Monday afternoon and Sunday evening classes regularly use to develop relaxation, balance and mobility and which are excellent for falls prevention in people over 50.
By this point in the day the hall was quite full with many people sitting or standing with tea and cake while they appreciated the activities in the display area. Visitors were also able to visit the presentation booths for Massage/Aromatherapy with Tom Rigby who was giving free tasters all day and to discuss reading matter with Joy Lakin from Shefford Library, who presented a selection of books related to the day's activities – and lending them out to visitors who had their library cards with them.
Ian's original and inspiring Alexander Technique teacher – Eileen Johnson took a group through postural work addressing their primary control of the head and neck leading to relaxed posture and use of the body. Eileen used hands-on touch to adjust each person – and the group was encouraged to adjust their own posture in simple movement.
More Tai Chi from Ian who sought to explain something of the history of Tai Chi and the way it is good for both health and for martial arts – the first thing that Tai Chi seeks to do is to develop a healthy body with relaxed posture and movement – these are the basic principles. This can then be used to aid movement in daily life and if the student wishes then they can progress further towards the martial aspects.
A demonstration of Wing Chun was next on the program – from the William Wong Wing Chun Academy in Shefford who displayed a range of exercises and patterns with students across the age range from young to mature. Finally featuring a young student doing a solo pattern to the delight of the audience. This breadth of relevance whatever age was a continuing theme of the day across all classes.
A much anticipated set was the Taekwondo demonstration by Instructor Tom Delve of the Shefford Taekwondo group – he and his class showed powerful martial patterns with punches and blocks and included a display of young students which drew much appreciation from the crowd – this finally culminated in a show of brick breaking by the instructor and his senior students, which had us all urging them on and applauding.
Ian took a further session of Tai Chi where he discussed the way that Natural Movement with relaxed good posture forms the basis for good martial techniques – taking standing exercise into walking and into light co-operative partner work. Ian demonstrated both the traditional slow hands free Tai Chi form and a brief but fast Broadsword form which he and senior students practice on Sunday evenings.
No health and fitness day would be complete without a Yoga class – which was taken by teacher  Rick Nunn from 9-Energy Natural Expression  – even at the end of the day there were many people still up for joining in with this excellent class which proved challenging and fun. There was even a little friendly competitive spirit expressed by some of the participants who had stayed from the morning and were still looking to enjoy themselves with healthy movement. Rick's sense of humour in this shared learning environment was appreciated by us all.
The day closed off with more Tai Chi from Ian who took the class through walking backwards and how it related to balance and natural movement with a little more of the martial aspect.
Home baked cakes with tea, coffee and squashes were provided free throughout the day by the Shefford Tai Chi group – with donations for charity collected at the counter which finally totalled £110 – going equally to the World Wide Fund for Nature and Hitchin homeless.
Our grateful thanks go to the many volunteers from Shefford Tai Chi who gave their time (and cakes!) to making this annual free community event such a success.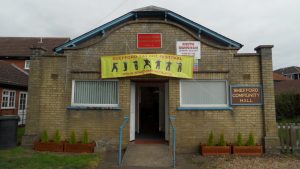 The Shefford Tai Chi Festival is held at Shefford Community Hall each year on World Tai Chi and Chi Kung Day designated by the World Health Organisation for the last Saturday of April. This year it will be complimented by a wider Community Festival held at venues throughout Shefford in September from 22nd to 30th.  Organisations wishing to participate in either this year's Community Festival or next year's Tai Chi Festival should contact Ian Deavin on [email protected]
Contacts:
Tai Chi – Ian Deavin – 07860 218334
Jujitsu – Lee Alexander/Nicky Tribble – 07780 971004
Alexander Technique – Eileen Johnson – 07717 154732
Wing Chun – Yvoone and William Wong – 07900 922486
Taekwondo – Tom Delve – 07743 918487
Yoga – Rick Nunn – 07535 676319
Massage/Aromatherapy – Tom Rigby – 01767 314185
Shefford Library – Joy Lakin – 0300 300 8067
Shefford Community Hall – Elsa Tattersfield – 01462 811607