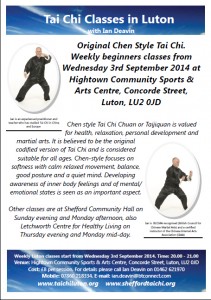 Update – please note Luton Classes are now held at Chaul End Community Centre, for details please see here.
I am delighted to be starting regular Tai Chi classes in Luton from September 3rd at the Hightown Community Sports & Arts Centre – this in response to 4 existing students from the Luton area who would like to practice more often!
The classes will be suitable for beginners with a range of Tai Chi and Chi Kung exercises plus a short form of the basic Chen style routine.
Chen style Tai Chi Chuan or Taijiquan is valued for health, relaxation, personal development and martial arts. It is believed to be the original codified version of Tai Chi and is considered suitable for all ages. Chen-style focuses on
softness with calm relaxed movement, balance, good posture and a quiet mind. Developing awareness of inner body feelings and of mental/emotional states is seen as an important aspect. Please see www.taichiluton.org  for more information.