I thoroughly enjoyed hosting and teaching my first retreat for Re-Vitalise this last weekend at the wonderful St Katherines Parmoor – a full-of-character country house in Buckinghamshire with lots of space indoors and out, lovely rooms and amazing vegetarian food – I certainly had a great time and from feedback so far, so did the guests.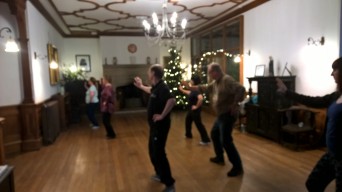 Re-Vitalise is run by the husband and wife team of Andy and Denise Spragg who have been organising successful Tai Chi and Yoga retreats for over 10 years, with many people coming back time and again – so I was mindful of the responsibility they were giving me in handing over some of their guests for the whole weekend – but I needn't have worried they were a great group and we got on really well. A 7.30 am start is always a shock at the weekend, but despite the wind the rain stayed away so we ventured out first thing for a sensory walk in the extensive gardens so we could wake up gently and naturally followed by some Chi Kung and light movement before breakfast. Then at intervals through the day I took everyone through a relaxed introduction to Chen Style Tai Chi with some history, basic exercises, a few moves from the Laojia form and some light partner work to investigate sensitivity and balance.
It was very gratifying to find that everyone "clicked" together – so we progressed smoothly through the weekend paced with short breaks and long lunches! Oh and long convivial dinners too!
Check out next year's Re-Vitalise Tai Chi and Yoga retreats – and book early here.