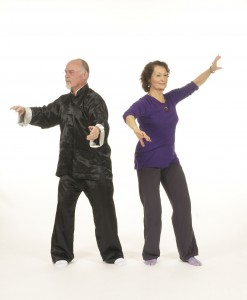 We are pleased to announce a one day workshop at The Letchworth Centre for Healthy Living on Sunday 24th November 2013, 10-4pm. The workshop will focus on key concepts and practices from Tai Chi and the Alexander Technique, taught so as to facilitate a real sense of positive change in body and mind. It will cover basic concepts and exercises in Tai Chi and Alexander Technique at a level appropriate for carers of those with such conditions as: Parkinson's, Alzheimer's, Fall vulnerabilities, Rehabilitation, Age-related deterioration, Chronic back pain, Spinal injuries, Multiple Sclerosis, Cerebral Palsy, Depression/Anxiety, Post-traumatic Stress Disorder.
The benefits of Tai Chi and Alexander Technique are of course well known both for general health and well-being and for people with specific needs and challenges. Since both operate on common principles, when taught together the resulting quality of movement can be truly transforming.
Carers will be taken through a basic Tai Chi/Alexander approach to inform their professional lives or role as familial carers as to the value of these alternative practices. The clear, detailed teaching methods aim to equip participants with a range of self-maintenance resources, plus the ability to pass on relevant material to the people they care for.
Seminar content will include: History and relevance of Tai Chi and Alexander Technique, basic exercises, mindfulness in movement, keeping a "Tai Chi" diary, care points, theory and approach to movement, matching practice to the individual, and clarity in communication.
The cost will be £50. For further information or to book your place contact The Letchworth Centre for Healthy Living – www.letchworthcentre.org, also see www.movingmindfully.com and www.sheffordtaichi.org.