Martial arts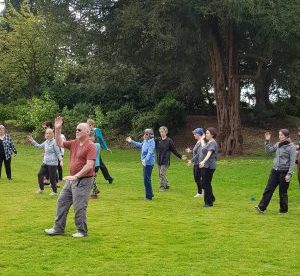 It is my hope that the following will help "first timers" better understand and enjoy their early Tai Chi classes since I frequently come across beginners who attend Tai Chi sessions with absolutely no knowledge or understanding of what it is or how classes work – and it seems that this sometimes can lead to an unnecessary disappointment, and that the problem is really about expectations brought into the class – perhaps this piece will help align those expectations with the reality of a class without scaring anybody off – there is no reason to be put off, Tai Chi really is a gentle, caring activity – but it is important to understand that Tai Chi is "what it is" and not what you expect it to be coming from the outside. One might reasonable expect that by going to a class one is going to learn about Tai Chi and indeed of course one will – but the subject is so large and the range of expectations/behaviours so great that it cannot all be encompassed in an introductory class – or possibly a lifetime.
Perhaps the best single piece of advice I can offer is to "learn to look after yourself" in all the possible ways that implies and learn to work within your comfort zone – but that is a lesson in itself.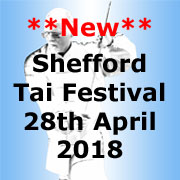 We had a brilliant day again this year – despite the weather many more people came than last year and lots stayed for the whole day – we were delighted to see everybody. There was a lot of interest in all the classes starting with Tai Chi exercises to loosen up the body and a seated Zen meditation session to calm and connect both mind and body.
The first guest presentation was from the ENSO Jujitsu group based in Clifton and headed by Lee Alexander, who showed us a variety of exercises and self-defence techniques with flowing movement and exciting throws including a female student taking on a series of attacks from the rest of the class. Visitors were encouraged to join in some partner work and experience the effectiveness of Jujitsu for themselves. There was a lot of enthusiasm and some laughter as everybody worked together co-operatively to learn these techniques.
Ian Deavin then took a beginners Tai Chi class incorporating standing exercises and slow walking – the sort of activities that the Monday afternoon and Sunday evening classes regularly use to develop relaxation, balance and mobility and which are excellent for falls prevention in people over 50.
By this point in the day the hall was quite full with many people sitting or standing with tea and cake while they appreciated the activities in the display area. Visitors were also able to visit the presentation booths for Massage/Aromatherapy with Tom Rigby who was giving free tasters all day and to discuss reading matter with Joy Lakin from Shefford Library, who presented a selection of books related to the day's activities – and lending them out to visitors who had their library cards with them.
Ian's original and inspiring Alexander Technique teacher – Eileen Johnson took a group through postural work addressing their primary control of the head and neck leading to relaxed posture and use of the body. Eileen used hands-on touch to adjust each person – and the group was encouraged to adjust their own posture in simple movement.
More Tai Chi from Ian who sought to explain something of the history of Tai Chi and the way it is good for both health and for martial arts – the first thing that Tai Chi seeks to do is to develop a healthy body with relaxed posture and movement – these are the basic principles. This can then be used to aid movement in daily life and if the student wishes then they can progress further towards the martial aspects.
A demonstration of Wing Chun was next on the program – from the William Wong Wing Chun Academy in Shefford who displayed a range of exercises and patterns with students across the age range from young to mature. Finally featuring a young student doing a solo pattern to the delight of the audience. This breadth of relevance whatever age was a continuing theme of the day across all classes.
A much anticipated set was the Taekwondo demonstration by Instructor Tom Delve of the Shefford Taekwondo group – he and his class showed powerful martial patterns with punches and blocks and included a display of young students which drew much appreciation from the crowd – this finally culminated in a show of brick breaking by the instructor and his senior students, which had us all urging them on and applauding.
Ian took a further session of Tai Chi where he discussed the way that Natural Movement with relaxed good posture forms the basis for good martial techniques – taking standing exercise into walking and into light co-operative partner work. Ian demonstrated both the traditional slow hands free Tai Chi form and a brief but fast Broadsword form which he and senior students practice on Sunday evenings.
No health and fitness day would be complete without a Yoga class – which was taken by teacher  Rick Nunn from 9-Energy Natural Expression  – even at the end of the day there were many people still up for joining in with this excellent class which proved challenging and fun. There was even a little friendly competitive spirit expressed by some of the participants who had stayed from the morning and were still looking to enjoy themselves with healthy movement. Rick's sense of humour in this shared learning environment was appreciated by us all.
The day closed off with more Tai Chi from Ian who took the class through walking backwards and how it related to balance and natural movement with a little more of the martial aspect.
Home baked cakes with tea, coffee and squashes were provided free throughout the day by the Shefford Tai Chi group – with donations for charity collected at the counter which finally totalled £110 – going equally to the World Wide Fund for Nature and Hitchin homeless.
Our grateful thanks go to the many volunteers from Shefford Tai Chi who gave their time (and cakes!) to making this annual free community event such a success.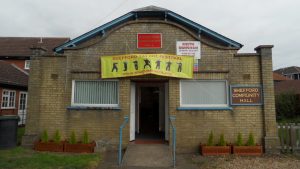 The Shefford Tai Chi Festival is held at Shefford Community Hall each year on World Tai Chi and Chi Kung Day designated by the World Health Organisation for the last Saturday of April. This year it will be complimented by a wider Community Festival held at venues throughout Shefford in September from 22nd to 30th.  Organisations wishing to participate in either this year's Community Festival or next year's Tai Chi Festival should contact Ian Deavin on ian.deavin@btconnect.com
Contacts:
Tai Chi – Ian Deavin – 07860 218334
Jujitsu – Lee Alexander/Nicky Tribble – 07780 971004
Alexander Technique – Eileen Johnson – 07717 154732
Wing Chun – Yvoone and William Wong – 07900 922486
Taekwondo – Tom Delve – 07743 918487
Yoga – Rick Nunn – 07535 676319
Massage/Aromatherapy – Tom Rigby – 01767 314185
Shefford Library – Joy Lakin – 0300 300 8067
Shefford Community Hall – Elsa Tattersfield – 01462 811607
Attending a martial arts class may well be very different to other activities you have undertaken and it should be remembered that Tai Chi is a martial art – and I believe it is extremely important that this link is maintained. This is part of their paradox which I have written about elsewhere.  So the following are a few personal thoughts drawn from 45 years' experience, which may forewarn and help a beginner to navigate and benefit from a class – they are all based on long held deeply personal ideas of equality, respect for the individual, and personal choice and responsibility, which are values I have found within martial arts and the underlying philosophies of Zen Buddhism and Taoism but sadly not so well understood elsewhere.
If the instructor says he/she is going to demonstrate, they will take care to be in a position to be observed but you can help yourself by moving to a position where you can see what you need to – which is probably at the front – so do not stand behind unless you actually want to see their back view. An obvious point but often forgotten.
Individual positions in the class may be quite loose – make sure that you can see the instructor and have room to move adequately – take care that you do not block the view of others or their practice space. You may need to adjust your position during the course of the class in this way you can respect your class mates and look after your own learning process.
Equally, you will benefit from knowing which is your left hand and which is your right – if you do not then be sure to copy the teacher attentively. When the teacher is demonstrating pay close attention, learn to observe thoroughly.
Learning anything new is difficult and stressful so if you have difficulty do not worry – we all did and still do! So do not expect that you will become "relaxed" at your first class – like most things it takes work. You may think that it is important to know the names of the moves but actually not at all necessary and often a distraction from learning the way of moving which is really much more important. Of course I use many of the names in my classes and there are lists on the internet but it is a mistake to concentrate on this. Likewise music in classes and the use of videos. By all means use videos as an aid memoire, but personally I find them only really of value once I have learned the basics from a teacher and frequently confuse the beginner.
Practice what you can remember between classes. I find there is a window after a class (24 hours for me) when repetition on my own is vital to learning new moves. Daily practice is then important to implant the memory – the gaps can be filled in at classes. I tend to offer that students can video short sections of a demonstration for personal use as an aid if they wish, otherwise there are many videos of the forms online. As for the exercises there are just so many, but following requests from my students I have put a selection online at www.alternativehealthexercises.org
Over the years I have been to classes where the teacher drives students to practice – turn up at every class etc., and to others where no comment is passed beyond encouragement to practice – of the two I far prefer the latter. It is up to you what you put in and consequently what you get out – your choice. Although if you do not actually learn the choreography then you may restrict what can be done in the class and so impact the learning of your classmates – a question of both self-interest and respect for others.
We are all adults and can choose to be at a class or not – if you want to train then you turn up. There is little point in talking about it – you are there or you aren't. Turn up, you are taught – don't and you aren't.
In fact talking about it is often only a distraction but many people insist on doing so. Likewise, there is no compulsion to do anything once in the class (although a bit pointless if you don't) as adult students can decide for themselves. Those choices add up over the years.
As a student you are paying the teacher but really that is not what it is all about – in my experience I have been lucky in finding teachers who are primarily motivated by a love of sharing the art not so much by the money – yes it is an issue but once dealt with then we move onto the training and the sharing of knowledge which is the really important part. This is not always the case and you will make your own mind up about the teacher you find.
Regarding injuries or medical problems, by all means tell your teacher about it, but they cannot do anything about your condition (however concerned they may be)  and really the advice always comes to the same thing – that you work with your healthcare professional, do not over exert – adapt the exercises to suit your capability, rest if you need to, drink if you need and use the opportunity of the class to learn about your body, any pain that you may experience and how to work within the limits of your ability. These are surely obvious but may be worth repeating in case you have not considered them before. In this way you can perhaps learn how to look after yourself in the broadest sense, learn to work within your comfort zone, but also to expand the boundary a little in a way that you can handle.
Remember we are all responsible adults here so whatever the teacher says or does is only a suggestion – a sharing of their own experience – an offering of the opportunity to experience a certain type of movement so that you may find your own experience from which you can learn and choose how to manage your body through that experience.
There are three types of communication in a Tai Chi class:
Verbal
Demonstration
Physical correction
They are all important – perhaps the most important and least understood is physical correction. This is not arbitrary but a well thought out and long established process that can achieve things otherwise not possible, so if you are not comfortable with it then discuss with the teacher, but ultimately it will limit your ability to learn and the teacher's ability to teach. This is a given expectation in a martial arts class, so if the teacher seeks to make a physical correction or makes a direct suggestion to you which is outside your comfort zone in a way you choose not to go along with, then is the time to explain – "I have a knee/shoulder/back problem, do not want to be touched" or other so that the instructor can work with you the best they can. It is your body but you wouldn't go for a massage unless you expected to be touched and manipulated would you – likewise in a martial arts class. Until you try you do not know your limit – and neither does the teacher who can work with you if you communicate with them. In Tai Chi often the advice is simply if it hurts don't go there, make the movement smaller, find a way to make the movement more relaxed and softer, work around the pain – but then in health terms if it hurts to make a movement why would you do it anyway – you are an adult, you have a choice – simply modify the exercise to suit you.  It is worth understanding that martial artists are often different in this respect and do often choose to do many painful things for the perceived benefits they may bring.
Partner work may be incorporated in your class – this can be a very useful part of the learning experience but will depend on the level of the class – if it is health focused then it can vary from observing a partner to moving arms together – in martial oriented classes it can get rough. Again it is a question of what you are "up for" and your choice but it would be sensible to choose a class that suits you. In any event there is a negotiation to be had with your teacher and your partner – which may be verbal or simply physical.
Non-verbal physical communication is a major part of martial arts but little understood by beginners who can be wary of physical contact – we ask questions by contact, we express intent by pressure, we answer by movement, we express emotions by our balance, we listen by touch and much, more. Learning to do this is an important way of learning about your body and how to work with it, if you do not "learn this language" then you actually cannot learn many things of great benefit or communicate fully since words are frequently inadequate ( only 30% of communication I believe).
It is important that you learn to look after yourself from your experience in all senses and learn to take responsibility for your own behaviour by being appropriate with your teacher and other students.
For context and other related articles please see the beginners guide at : http://www.sheffordtaichi.org/classes/ which covers:
For the history of Tai Chi see here.
For general reading of my other articles: please see here
Also for material by others that I have found useful please see the reading list here
and the links page here.